Recycling donated bikes to raise money for charity.

We are a volunteer run organisation, started in autumn 2014 with the help of some Lottery funding.  We now  have a growing team and have been busy fixing up donated bikes.  The bikes we sell go through a detailed safety check and are fixed up where repairs are needed to bring them to full working order ready for sale.  You can see details of the charities we support with the proceeds we make here.
The bikes aren't fully refurbished beyond essential repairs so we can sell them at reasonable prices.  We have bikes ranging from toddler to adult size and we take donated bikes and spare parts in any condition – we don't let anything go to waste!
News…
Big Bike Revival 2017 was great!
In May we ran 3 days of fun Big Bike Revival events, fixing bikes, selling recycled bikes, taking in bike donations, competitions, and a lot of cake.  250 people visited over the weekend – a big thanks to our customers, bike donors, cake bakers and team who helped run the events.
Check out the fun video compilation put together by Cycling UK and photographer Joolze Dymon: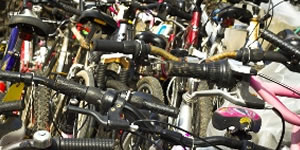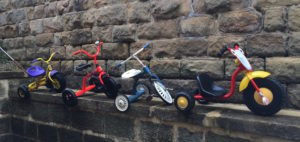 Lots of bikes for sale
We have a few 'ready to go' bikes on the website and over lots of bikes waiting to be cleaned up.  If you come and see one you like that isn't ready we can usually have it ready to go in a few weeks (depending on the length of the queue).  We have something for all ages.  Please note – all the bikes you see in our yard are not yet ready for sale.  Come inside to see the for-sale bikes or see them on our Bike List page on the website.  We try and keep that up to date.  There are also trikes and scooters that are 'free to a good home'.