Recycling donated bikes to raise money for charity.
We are a volunteer run organisation, started in autumn 2014 with the help of some Lottery funding.  We now  have a growing team and have been busy fixing up donated bikes.  The bikes we sell go through a detailed safety check and are fixed up where repairs are needed to bring them to full working order.  You can see details of the charities we support with the proceeds we make here.
The bikes aren't fully refurbished beyond essential repairs so we can sell them at reasonable prices.  We have bikes ranging from toddler to adult size and we take donated bikes and spare parts in any condition – we don't let anything go to waste!
News…
Big Bike Revival 2016
Mark your diaries!  We have several events coming up:
Bank Holiday weekend – Dr Bike will be offering free advice, bike checks, basic adjustments and repairs, recycled bike sales, bike donation station, competitions, refreshments.  We will be open 1000-1600 on Saturday 27th and Monday 29th August that weekend in the main hall (front door!).
New back yard
Our steep old back steps have been replaced and we now have access to another cellar for bike storage.  Come and take a look and sample our tea and cake!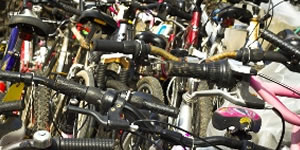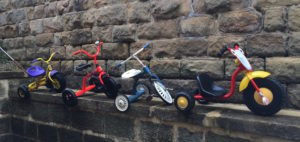 Lots of bikes for sale
We have a few 'ready to go' bikes on the website and over 100 bikes waiting to be cleaned up.  If you come and see one you like that isn't ready we can usually have it ready to go in 1- 2 weeks.  We have something for all ages.  Please note – all the bikes you see in our yard are not yet ready for sale.  Come inside to see the for-sale bikes or see them on our Bike List page on the website.  We try and keep that up to date.