Recycling donated bikes to raise money for charity.

We are a volunteer run organisation, started in autumn 2014 with the help of some Lottery funding.  We now  have a growing team and have been busy fixing up donated bikes.  The bikes we sell go through a detailed safety check and are fixed up where repairs are needed to bring them to full working order ready for sale.  You can see details of the charities we support with the proceeds we make here.
The bikes aren't fully refurbished beyond essential repairs so we can sell them at reasonable prices.  We have bikes ranging from toddler to adult size and we take donated bikes and spare parts in any condition – we don't let anything go to waste!
Normal opening times are:  Mondays 1300-1500, Thursdays 1300-1500, Fridays 1300-1600, Saturdays 1400-1700.
Feel free to leave us a message at other times on – 01423 593103.  If you have a bike to donate drop us an email or phone message and we can arrange collection locally if needed.
News…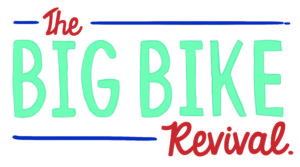 Big Bike Revival 2018 was great!
We ran a series of Big Bike Revival events again this year:
Almsford Family Fun Day, Sunday 20th May, with some fun bikes to try out and some bike related games
Spring Bank Holiday weekend in Westcliffe Hall.  We had free basic bike repairs, information, bike sales, competitions and refreshments
Puncture repair training:  We ran some short classes on how to check your bike and repair a puncture.
Sunday 3rd June we were by the Bilton entrance to the Greenway track to Ripley.  We did bike checks and basic repairs.
Thanks to all who came along and joined in with bike donations, bikes to repair and bike sales.  Thanks also to the great team of volunteers who made it possible.
Check out the fun video compilation put together by Cycling UK and photographer Joolze Dymon at last year's events: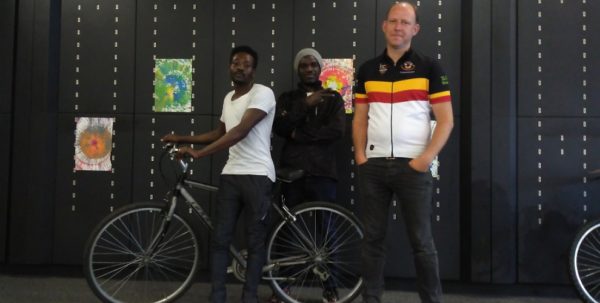 Bikes for Asylum Seekers
We have been providing fixed up bikes for Syrian refugees being resettled across North Yorkshire and asylum seekers locally.  A Bradford charity is also using the unfixed bikes we donate to Margaret Carey Foundation to supply other asylum seekers in the region.  Article from Cycling UK below:
Having been part funded by Cycling UK, Bradford's Capital of Cycling has fixed up and revived over a hundred bikes to give away to asylum seekers and refugees in need of transport. Using bikes supplied by the Margaret Carey Foundation, who give inmates bikes to fix in prison workshops, they worked alongside Bradford Bikery to deliver the programme. In addition to giving inmates a useful skill this process has at the same time enabled people to benefit hugely from cycling.
Adel from Sudan is one such person who has benefited from the programme. He came along to get his bike fixed and was given a town bike as a replacement whilst it was getting mended. On his return, he smiled to give thanks to everyone who had fixed up his wheels as he was unable to speak English and is currently learning at a college in Bradford. Now he's back cycling his favourite bike.
"Some of the people we have given bikes to are in absolute transport poverty.  A bike can be a crucial tool for getting around.  sylum seekers in the UK have fewer rights than someone in prison. Application for asylum can take years and whole families can be stuck in limbo during this period, not allowed to seek work, penalised with sanctions and not receiving even basic tenants' rights, not knowing if they're going to be sent back into a warzone, to torture or worse."  Dave Robison, The Capital of Cycling
"The bike enables people to get from place to place far quicker, it gives them a tool to survive on – 12 miles of travel, e.g. to the shops and back, to school and back to collect kids and so on can now be done in a fraction of the time," enthuses Dave, "What we are doing here, with simple tools, are real life-changing interventions."
According to Dave, the asylum seekers who come to get a revived bike or an old one mended, really do use them:
"I get a great feeling when I walk around Bradford and can see people cycling around on the bikes that we fix up or have given to them.
"As well as using the bikes regularly, some families come and volunteer at our maintenance sessions on Friday. There are people here with useful skills, that would be completely wasted. There was a couple from Iran who fled persecution after one partner changed faiths and became a Christian. At home in Iran, the fellow was a stock car racer and a car mechanic, so he's picked up the bike mechanic skills we taught him really quickly and is now helping us to renovate scrapped bikes and give them back to the children in the community."
Dave continued, "The legacy of The Big Bike Revival has shown that we've got dozens more people onto their bikes, given them the freedom of cycling and we hope in the near future to work with a refugee charity to create regular led rides for the community."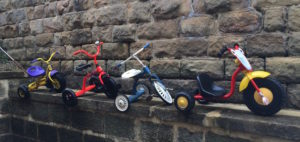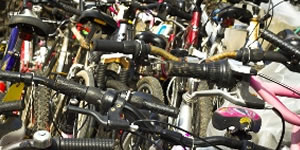 Lots of bikes for sale
We have a few 'ready to go' bikes on the website and lots of bikes waiting to be cleaned up.  If you come and see one you like that isn't ready we can usually have it ready to go in a few weeks (depending on the length of the queue).  We have something for all ages.  Please note – all the bikes you see in our yard are not yet ready for sale.  Come inside to see the for-sale bikes or see them on our Bike List page on the website.  We try and keep that up to date.  There are also trikes and scooters that are 'free to a good home'.